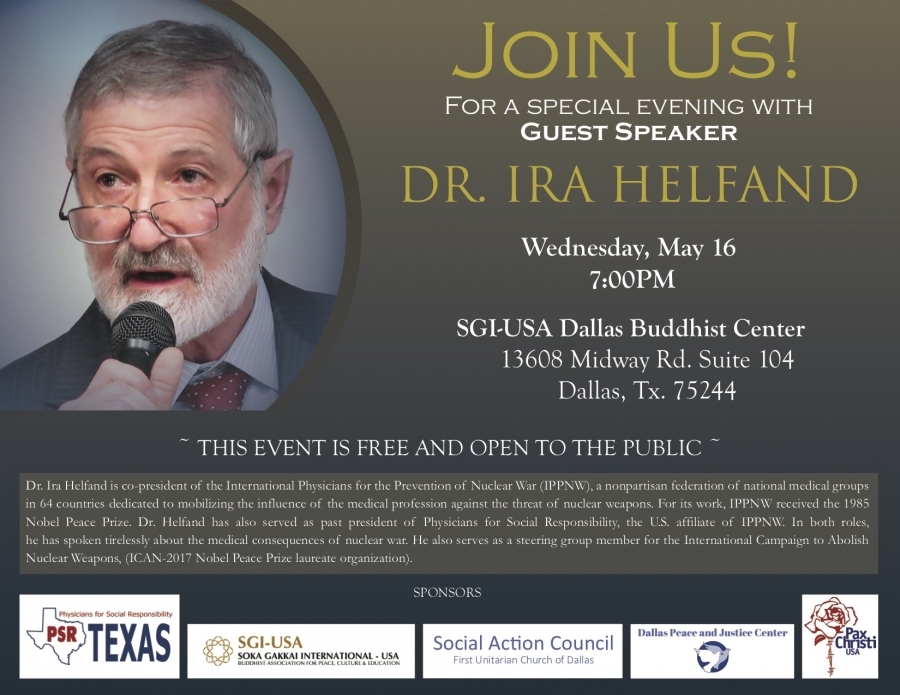 Join us! For a special evening with Dr. Ira Helfand, Wednesday, May 16 at 7:00 pm, SGI-USA Dallas Buddhist Center, 13608 Midway Road, Suite 104, Dallas, TX 75244
Dr. Ira Helfand is co-president of the International Physicians for the Prevention of Nuclear War (IPPNW), a nonpartisan federation of national medical groups in 64 countries dedicated to mobilizing the influence of the medical profession against the threat of nuclear weapons. For its work, IPPNW received the 1985 Nobel Peace Prize. Dr. Helfand has also served as past president of Physicians for Social Responsibility, the U.S. affiliate of IPPNW. In both roles, he has spoken tirelessly about the medical consequences of nuclear war. He also serves as a steering group member for the International Campaign to Abolish Nuclear Weapons, (ICAN-2017 Nobel Peace Prize laureate organization).
In addition to this 7:00 pm event, there will be an earlier meeting at the SGI-USA Dallas Buddhist Center from 3:30 to 4:45 pm. This event is intended for high school and college students. Then after his main presentation at 8:30, he will be meeting with medical professionals about establishing a local chapter in Dallas.
No need to make reservations, and all events are free.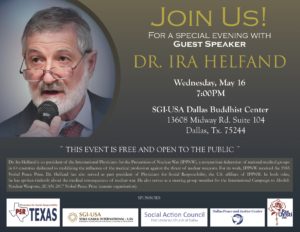 SaveSave